China's first seabed mining and dressing vessel was successfully launched
2015-01-23
On January 23rd 2015, China's first seabed mining and dressing vessel, "Taixin-1" was successfully launched at the new dock of Nantong, Jiangsu. As China's very first ore mining and dressing vessel, it has a total length of 122.2 meters, a molded breadth of 25 meters and a molded depth of 5.2 meters and it was about to head to the coastal area of Baoding, Wanning, Hainan Province for uhligite mining and dressing practice. "Taixin-1" is characterized by multiple key technical breakthroughs in terms of its equipment technology. It has perfectly mixed the advanced technologies of the dredging engineering and mine exploitation domains together and it carries the important mission of exploiting ocean mineral resources. Enjoying a compact structure, full function, high degree of automation, powerful data acquisition capability, good reliability and sound mobility, the vessel can carry out uhligite mining and dressing operations with different mining systems based on different seabed geological conditions; and adopt different discharge modes according to different properties of the tailings to avoid environmental pollution; equipped with a stable whole-ship platform, the vessel can detect and control the operation of the mining and dressing vessel with a refined control management system. Representatives of CNR Ship & Ocean Engineering Development Co., Ltd., Chonghe Marine Industry as well as Hainan Taixin Mining Industry Co., Ltd. (hereafter referred to as "Taixin Mining"), China Minmetals Corporation and Anshan Engineering and Research Institute for Metallurgy Industry under China Minmetals Corporation all showed up and made a speed in the ceremony and watched the launching of the ship.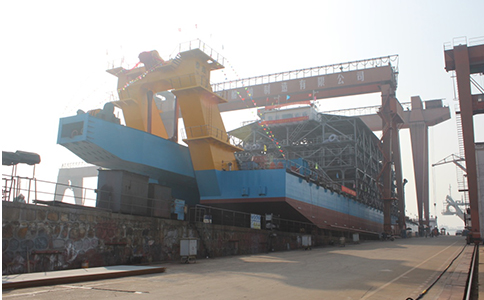 It's reported that the technical equipment can cover the demands for over 90% of the exploitation tasks of coastal mineral resources both at home and abroad. It has made a contribution to help China realize its dream of becoming a marine equipment powerhouse and achieve exploration and mining of undersea mineral resources. Some experts believed that under the context of fighting for undersea resources with technology-oriented approach, making key technical breakthroughs in the ocean mining and dressing ship equipment will give a new surge of energy to seabed mineral exploitation technologies and improvement of the equipment's intelligence level. In the meantime, it has also made significant contributions to China in terms of expanding its rights and interests of deep sea strategic resource reserve, developing high and new technology, launching international cooperation as well as showing off its technical strength.
As the critical area where mankinds acquire strategic resources, marine minerals have been receiving increasingly high attention from every country. Development of key ship equipment technologies such as survey, mining and dressing, transportation and so forth have become the important means of acquiring ocean mining rights. Ever since the mid-80s of the 20th century, developed countries in the west have expanded their research domains to various resources such as cobalt-rich crusts, hydrothermal sulphides, natural gas hydrates and so on after establishing their leading position in the mining technology of polymetallic nodules. The U.S., Japan, India as well as relevant European countries have all made long-term development and implementation plans for natural gas hydrates one after another. Some countries even deemed exploiting international seabed resources as significant geopolitical projects in the hope of protecting their respective national interests.
Relevant data shows that the main deep sea mineral resources around the world at present are polymetallic nodules, cobalt-rich crusts, hydrothermal sulphides, natural gas hydrates and so forth, among which there are 70 billion tons of polymetallic nodules with commercial development value in the ocean floors around the globe. In countries with rich ocean mineral resources such as Indonesia, Malaysia, Thailand, Mexico, Mozambique and so forth, there's a growing trend in the scales of coastal mining; however, limited by equipment technology, the ocean mining depth of some island countries is merely 20 meters or so. Their mining operations have encountered difficulties of not being able to achieve pin-point targeting due to outdated equipment, which in turn lead to low mining efficiency and low rate of recovery. Indonesia's cooperation with China on purchase of equipment technology as well as operation and maintenance of mining equipment this time is expected to turn the above dilemma around.