In order to further adapt to China's construction requirements for offshore wind power installation, Chonghe Heavy Industry has optimized its design on the basis of "Huadian-1001" and invested in building of the second generation product, "The 100045R-II Self-Elevating Offshore Wind Power Installation Platform——Shengfeng-II"on its own.。
"Shengfeng-II" has put the technical features of domestic and overseas offshore wind power installation platforms together while meeting most of the geological requirements in China.
Molded length of the platform: 92.4 meters;
beam breadth: 40.6 meters; molded depth: 7.0 meters, designed draft: 4.2 meters;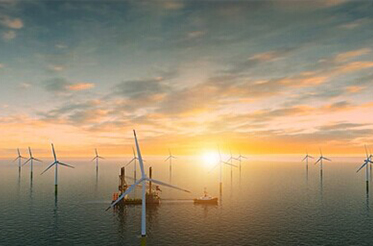 45
maximum working water depth
meters
1000t-25
main crane
meter pile-revolving crane
16
level of wind resistance
super typhoon
The platform is capable of pin-point targeting in any given sea area. It can rise off sea surface with four sets of 3000-ton pile-elevating device, and carry out high-precision offshore operations such as point-to-point offshore piling with 1000-ton pile-revolving cranes, installation of offshore wind turbine and so on.
Main Applications of the Platform:
Capable of split type hoisting of 7MW offshore wind turbine
Capable of meeting the operation requirements at the water depth of 45 meters
Capable of hoisting of 1000-ton single pile and high-precision piling
Capable of carrying 4 sets of 4MW or 2 sets of 7MW fan modules to wind fields at once
Can be used in other marine engineering works where high-precision hoisting is involved
Can be used in hydraulic engineering works where high-precision piling is involved
Capable of various functions such as offshore drilling, residence and so forth
These days, the world's energy consumption has greatly increased, resources such as coal, petroleum, natural gas and so on are being rapidly consumed and the environment is ever deteriorating. As a clean and environmental renewable energy source, offshore wind power has made a significant contribution to the improvement of the environment and sustainable development of human society.
The self-elevating offshore wind power platform with independent intellectual property right developed by CNR Ship & Ocean Engineering Development Co., Ltd. and Chonghe Heavy Industry was identified to be in the leading position in China and advanced position in the world. It's capable of meeting the demands of domestic and international clients.
With the care and support from people from all walks of life in the industry, Chonghe Heavy Industry has been working hard and keeping on improving to step up the pace of breaking through the development bottleneck of offshore wind power platform with the purpose of contributing to the realization of "the dream of becoming a marine equipment powerhouse".